The Journal of Hellenic Studies was first issued in 1880 and is recognized internationally as one of the foremost periodicals in the field of classical scholarship. It contains articles on a wide variety of Hellenic topics including Greek language, literature, history and art and archaeology in the Ancient and Byzantine periods, as well as reviews of recent books of importance to Greek studies.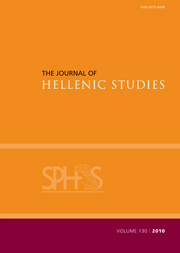 The supplement, Archaeological Reports
, published in association with the British School at Athens provides fully illustrated accounts of archaeological work in Greece and other parts of the world that were sites of Greek culture. The '
Archaeology in Greece
' database is a joint project of the École françaised'Athènes and the British School at Athens.
The journals are
published in partnership
with Cambridge University Press
Reprints of the Journal of Hellenic Studies are available from the Periodicals Service Company
Editorial Committee
Professor Robert Fowler, Dr. Margaret Mountford, Dr. David Thomas, Dr. Daniel Stewart, Dr. Roger Brock (Editor JHS), Dr. Christy Constantakopoulou (Editor JHS Reviews) Ms. Richella Doyle (Editor AR), Ms. Gina Coulthard (Production Editor), Prof. Douglas Cairns, Professor Edith Hall, Dr. Phillip Horky, Professor Robin Osborne, Dr Anja Ulbrich, Dr. Riet van Bremen.
Archaeology in Greece (AR) Editor: Dr. Zosia Archibald
Contributions to the Journal of Hellenic Studies should be anonymised and emailed to the Editor r.w.brock@leeds.ac.uk, with the subject 'JHS'.